In the event your key/remote is lost, stolen or destroyed, we will pay the Reasonable Repair Cost for a replacement key/remote up to $800 per year for you!
---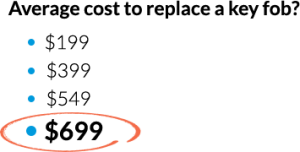 ---
Guardian Key
Replacing a damaged smart key or remote fob requires special diagnostic equipment and a trip to the dealership for programming.
Key and remote replacement costs vary from vehicle to vehicle and can cost as little as $200 to as much as $800 or more!